The "Karabakh – Armenia" Theme in the Iconography of Armenian Identity
(Based on posters and banners from the Karabakh Movement)
Keywords:
posters and banners, iconography, Karabakh movement, national identity, mother Armenia
Abstract
The images and written formulas depicted on banners and posters are a vivid manifestation of national identity and tend to appear and reappear in abundant quantities in times of societal crises. In this sense, the iconography of the Karabakh Movement represents a rich and broad field of study. What is distinctive about the posters created during the Karabakh Movement is that a great majority did not simply proclaim the programmatic ideas of certain parties or political trends but rather expressed the people's concerns, moods and wishes and their interpretations of events as they unfolded. The posters and banners of the Movement manifested in varying genres and revealed diversity in their content. They were the product of both Soviet and nationalist mentality.
The theme "Karabakh-Armenia" had many different manifestations in the iconography of the Karabakh movement, such as quotations and the creation of posters using or based on "quote thinking"; unification of Karabakh with Armenia as a solution for the Karabakh issue; the theme of Mother Armenia and child-Karabakh; "Karabakh is ours"; manifestations of solidarity with the people of Karabakh; Karabakh and Armenia as one entity.
This article aims to present and analyse those banners and posters as manifestations of national identity.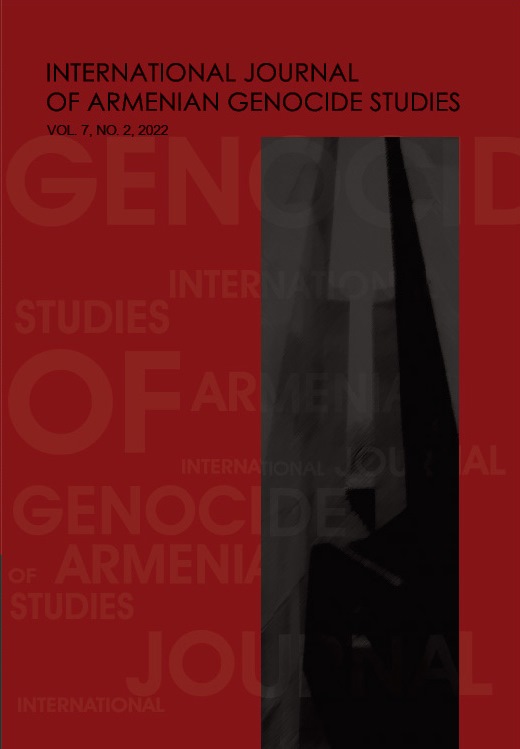 Downloads
How to Cite
Marutyan, H. T., & Abrahamian, L. H. (2022). The "Karabakh – Armenia" Theme in the Iconography of Armenian Identity: (Based on posters and banners from the Karabakh Movement). International Journal of Armenian Genocide Studies, 7(2). https://doi.org/10.51442/ijags.0033
License
Copyright (c) 2022 Harutyun T. Marutyan & Levon H. Abrahamian
This work is licensed under a Creative Commons Attribution-NonCommercial 4.0 International License.