Syriac Narratives on the Ottoman Genocide in Comparative Perspective
Keywords:
survivor's memoirs, Syriac Christians, Christian minorities, Ottoman Empire, genocide, literary narration, literary narratives
Abstract
This contribution explores the narrations and narrative styles of three Syriac authors and genocide survivors from the Diyarbakır province of the Ottoman Empire: Naaman Abed Qarabashi, Ishāq bar Armalto (Armale) and Henno, comparing them with the Armenian and Greek survivors Rev. Grigoris Balakian (Գրիգորիս Պալագեան, Grigoris Palagean), Yervant Odian (Երուանդ Օտեան – Eruand Ōtean1 ), Elias Venezis and Dido Sotiriou, who all wrote and published memoirs of events they were close to. The three Syriac authors developed an antagonistic narrative shaped by biblical narrative styles, Christian martyrology and their perception of contemporary events as inter-religious war and traditional Jihad. The non-Syriac authors that have been considered here replaced, in various degrees, this approach by internalization. Greek authors from Asia Minor, such as Venezis or Dido argued, in their narrations, against the ethnic or religious ascription of guilt by emphasizing cases of solidarity between Ottoman Turks (Muslims) and Orthodox Greeks. The two Armenian authors examined here represent a middle position between Syriac moral antagonism and the differentiating introspection of Greek authors. In spite of their very different backgrounds and professions as clergyman and secular journalist, both tried to present their testimonials as documentary, unvarnished and "unliterary" as possible.
Is it possible to survive in a system based on violence and terror without the loss of human empathy and dignity? The Syriacs saw this possibility mainly in individual martyrdom. Elias Venezis and Dido Sotiriou, however, named culprits and victims on both sides of the ethno-religious divide and included Muslim rescuers in their narrations. The Armenian authors Yervant Odian and Grigoris Balakian focused their narrations on suffering as such. In the face of their numerous compatriots who had been silenced forever, they cleared their "survival debts" by writing about the unspeakable and witnessing genocidal destruction.
References
David Gaunt, "Failed Identity and the Assyrian Genocide," in Shatterzone of Empires: Coexistence and Violence in the German, Habsburg, Russian and Ottoman Borderlands, ed. Omer Bartov, Eric Weitz (Bloomington, Indianapolis: Indiana University Press, 2013).
Joseph Yacoub, Year of the Sword: the Assyrian Christian Genocide: a History (Oxford: Oxford University Press).
Aydin Polycarpus, George Kiraz, "Qarabashī, ʿAbd al-Masīḥ Nuʿmān," in The Gorgias Encyclopedic Dictionary of the Syriac Heritage, eds. Sebastian P. Brock et al. (Piscataway, NJ: Gorgias Press, 2011).
Abed Mschiho Na'Man Von Qarabasch, Vergossenes Blut: Geschichten der Greuel, die an den Christen verübt, und der Leiden, die ihnen 1895 und 1914-1918 zugefügt wurden (Glane/Losser: Bar Hebraeus, 2001).
Père Isaac Armalet, "The worst of all catastrophes for the Christians" (Harissa: Imprimerie des Paulistes, 1919).
Père Isaac Armalet, Les calamités imposées aux chrétiens: Par un témoin oculaire - Recueil des évènements malveillants, injustices, kidnappings, déportation, massacres, exode, injures et autres actes hideux survenus en Mésopotamie, principalement à Mardin, en 1895-1914-1919 (Paris: L'Harmattan, 2017).
Sébastien Courtois, The Forgotten Genocide: Eastern Christians, The Last Arameans (Piscataway, NJ: Gorgias Press, 2004).
Yervant Odian, Accursed Years: My Exile and Return from Der Zor, 1914-1919, translated by Ara Stepan Melkonian (London: Gomidas Institute, 2009).
Grigoris Balakian, The Armenian Golgotha: A Memoir of the Armenian Genocide, 1915-1918 (New York: Alfred A. Knopf, 2009).
Politisches Archiv des Auswärtigen Amtes (PA/AA), Botschaft Konstantinopel, Bd. 168, zitiertnach, http://www.armenocide.net/armenocide/armgende.nsf/$$AllDocs/1915-03-13-DE-012.
Report of 15 April 1915 at http://www.armenocide.net/armenocide/armgende.nsf/$$AllDocs/1915-04-15-DE-002.
http://www.armenocide.net/armenocide/armgende.nsf/$$AllDocs/1915-11-04-DE-001.
Carl Alexander Krethlow, Generalfeldmarschall Colmar Freiherr von der Goltz Pascha; eine Biographie (Paderborn, München, Wien: Schöningh, 2012).
http://www.armenocide.net/armenocide/armgende.nsf/$$AllDocs/1916-02-14-DE-001.
Raymond Kévorkian, The Armenian Genocide: A Complete History (London, New York: I.B. Tauris, 2011).
Hans-Lukas Kieser, Aus Anlass der Beratungen des Bundestages am, 2 Juni 2016: Deutschland und der Völkermord an den Armeniern von 1915, accessed June 06, 2019, http://www.zeitgeschichteonline.de/kommentar/aus-anlass-der-beratungen-des-bundestages-am-2-juni-2016.
Tessa Hofmann, "Statt eines Nachworts: eine Ergänzung," in Die Verfolgung und Vernichtung der Syro-Aramäer im Tur Abdin 1915, gesammelt vom Erzpriester Sleman Henno aus Arkab, Tur Abdin (Glane/Losser: Bar Hebräus-Verlag, Holland, 2005).
Deutschland und Armenien 1914-1918, Sammlung diplomatischer Aktenstücke, ed. Johannes Lepsius (Potsdam: der Tempelverlag in Potsdam, 1919; reprint, Bremen: Donat and Temmen Verlag, 1986).
Elias Venesis, Nr. 31328: Leidensweg in Anatolien (Mainz: Philipp Zabern,1969).
Speros Vryonis, "Greek Labor Battalions in Asia Minor," in The Armenian Genocide: Cultural and Ethical Legacies, ed. Richard Hovannisian (New Brunswick, London: Transaction Publishers, 2007).
Dido Sotiriou, Farewell Anatolia (Kedros, 1962).
Tessa Hofmann, "'Only those who look back, move forward!': Four Literary Responses to Genocidal Trauma in Greek and Transnational Prose," International Journal of Armenian Genocide Studies 2, No. 1 (2015): 19-37.
Tadeusz Borowski, Die steinerne Welt (München: Erzählungen, 1963).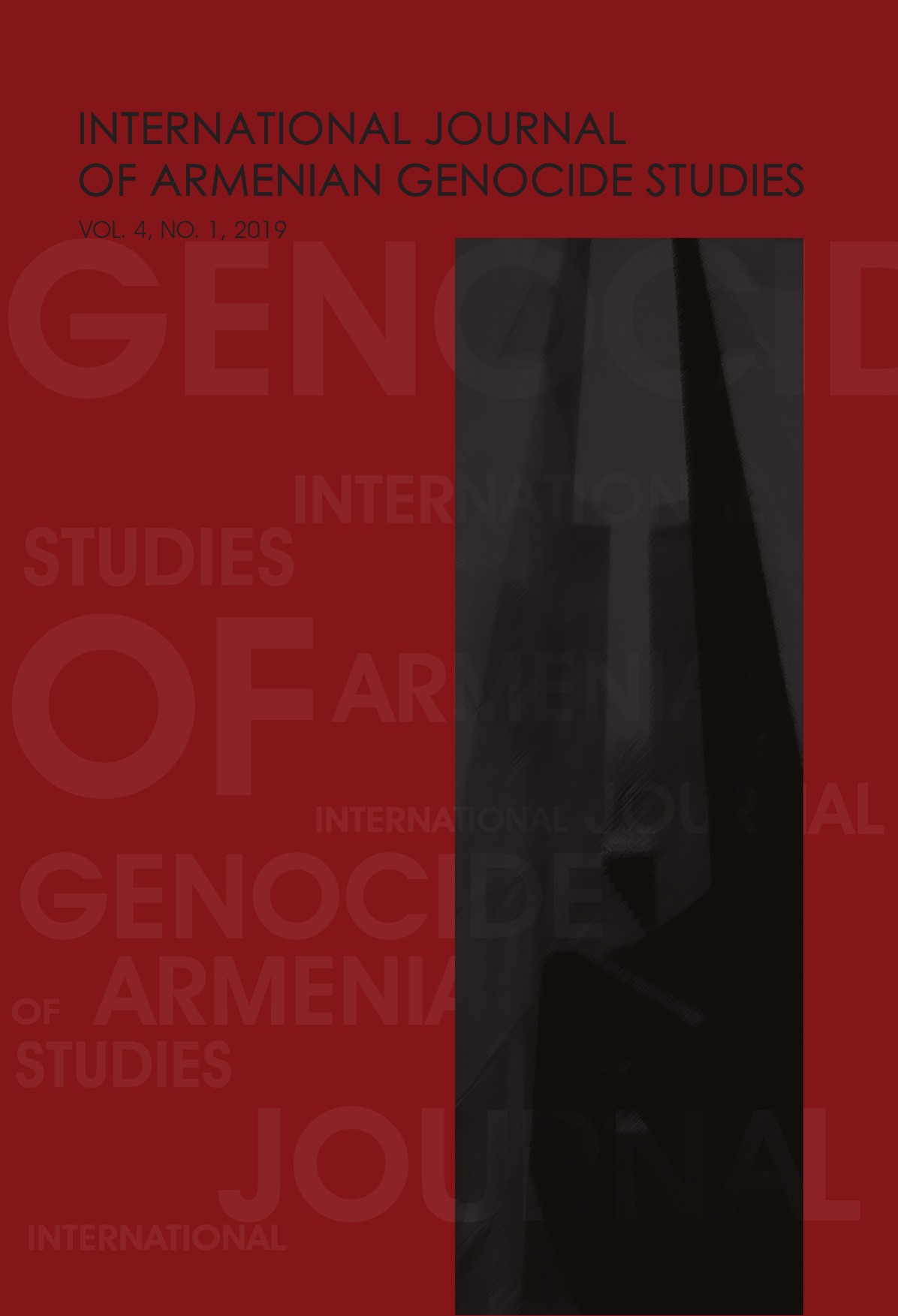 Downloads
How to Cite
Hofmann, T. (2019). Syriac Narratives on the Ottoman Genocide in Comparative Perspective. International Journal of Armenian Genocide Studies, 4(1), 6–35. Retrieved from http://agmipublications.am/index.php/ijags/article/view/40
License
This work is licensed under a Creative Commons Attribution-NonCommercial 4.0 International License.